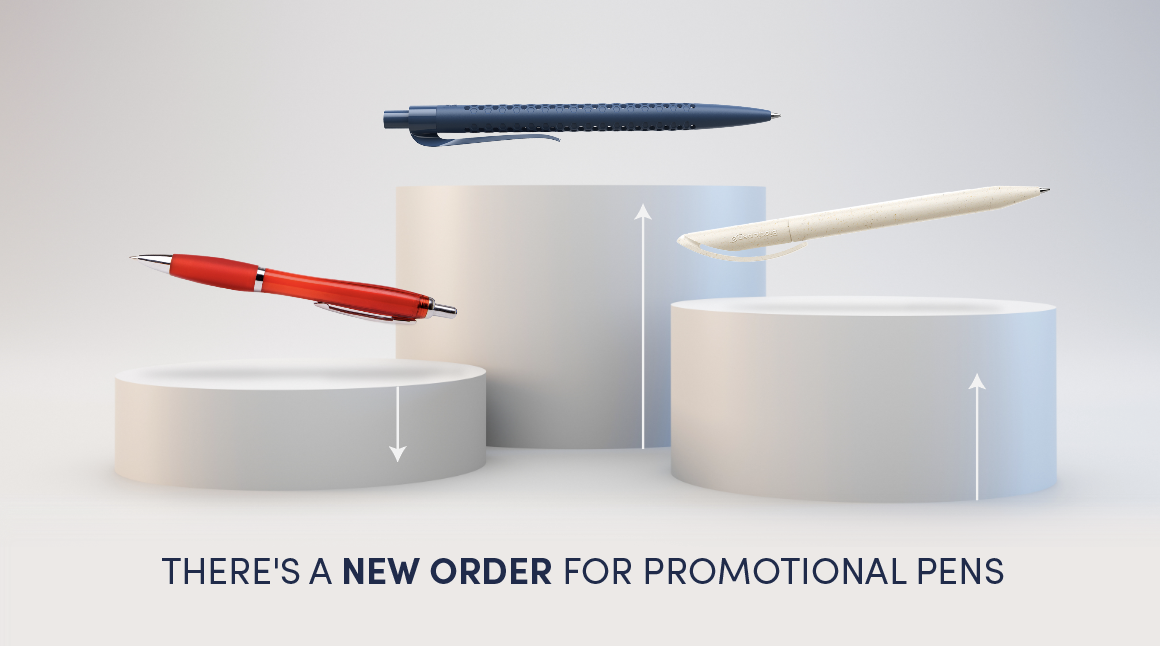 The way branded pens used to be…
At one time, the world of promotional pens revolved around the Contour. Maybe you didn't know its name, yet it will have inhabited your desk drawer, maybe it still does?
The sugary pick n mix of the pen world, the Contour was low cost, it came in lots of varieties and colours, yet, predictably, it was not very wholesome!
Thankfully times have changed. We're ready to be your pen mentor and reflect the values of your brand on one of the pens in our sustainable corporate gift range.
What is a sustainable pen?
We're looking for the following features;
Large, ideally refillable, ink cartridges
Components made of sustainable materials, such as recycled plastic, sugarcane or bamboo
Components that are biodegradable or recyclable at the end of a long life
A durable construction that will stand the test of time
Pens manufactured as close as possible to the UK.
Aren't there only limited options for sustainable branded pens?
No, product innovation and ranges are responding to consumer demand. There are sustainable pens for every budget and pens that can be highly customised to your brand. For example, with the biodegradable BIC® Media Clic Bio Ballpen, you can mix the colours between six barrel colours, 18 clip and 18 button colours.
Sustainable pens have a story to tell, which you can allude to with small sustainability statements or icons printed on them. They also make for great conversation starters, with pens made of recycled CD cases or recycled plastic bottles. The QS40 Biotic Pen from iconic Swiss brand Prodir, even has a distinctive honeycomb design to its body, which generates a 60% saving in the raw materials required to make it.
Will switching to sustainable branded pens be more expensive?
You're likely to see a small increase per unit, with the pens being more innovative and made to last. And remember, the longer their life, the more brand impressions you'll gain from them. You may want to share your pens in a more targeted way, enabling you to reduce your order quantity, or you could collate your regular orders and place less orders, but to higher volumes, to benefit from the notable economies of scale with pen pricing, like most corporate gifts. Don't let this be a barrier to making the switch, specific quotes will quantify any difference.
Are pens still a good brand marketing investment?
Perhaps the question to consider is, do you have a branded pen close to where you work? For most people, the answer is yes. There's no doubt that digital is commanding the most attention within marketing budgets. It is harder to measure the impact of promotional products, yet business surveys continue to rate their effectiveness, reporting on the time that items are kept and how memorable the brand is. There is no denying that when your contacts are presented with something unexpected, thoughtful and free, there is a positive psychological response. Get the gift right by tailoring the item to your audience and that response is magnified.
In summary, progress your pen projects by blending the look and values of your brand with the interests and lifestyles of your key contacts. The effort will be worth it and, as your pen mentor, we're here to support you with the product ideas, visuals and samples that you need.
Pens featured in our headline image;
Left, red pen – The Contour, just one pen style that you need to move on from with your sustainable pen project.
Middle, blue pen – The Prodir QS40 Biotic, an award-winning Swiss pen. Its material-saving design means that the QS40 requires 60% less plastic, and 30% of what it does need is recycled from internal waste. It has a refillable lead-free jumbo ballpoint pen refill and comes in 10 matt and nine velvety soft touch colours.
Right, white pen – One example of a biodegradable pen within our range is the Prodir DS3 Biotic. The pen casing and mechanism are made from renewable plant-based raw materials. It is available in seven colours and has three print positions.
Our ideas don't stop there, we'd love to hear more about your pen project, get in touch for a chat.