We've all had a lot to cope with over the last few months. Creating a safe environment for your customers and team will go a long way to rebuilding confidence and productivity.
Beyond the 'back to work' stickers, posters and PPE that we can help you with, our offer includes antibacterial branded promotional products that prioritise safety and functionality. They have an antimicrobial coating, with the active component of silver. Silver ion technology has been supporting infection control in the healthcare sector for years, as it disrupts the cell structure of bacteria, preventing it from growing, producing energy or replicating, therefore it cannot survive.
According to the US-based Centers for Disease Control and Prevention (CDC), 80% of illness-causing germs are transferred by touch.
Here's an insight into the antibacterial branded promotional products that are available, let's call it the Protection Collection!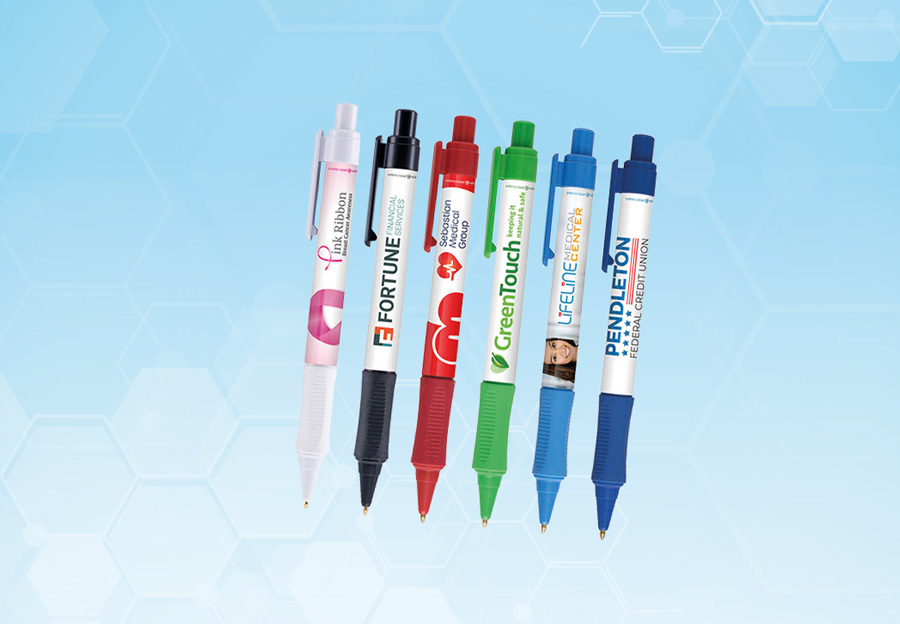 Antibacterial promotional pens
The active antibacterial ingredient is processed in the plastic material that is used to produce pens, it becomes an integral part of the product so cannot be rubbed off or compromised by other external influences. The approach inhibits the growth of bacteria by up to 99.99% and conforms to antibacterial protocol ISO 22196.
With a range of styles and personalisation options, choosing an antibacterial promotional pen comes with no compromise to your brand or message. We'll match how you're intending to use the pens to a style and personalisation approach, whether that be budget ballpens or branded options from Senator or Prodir.
Other things to think about…
Pens will have another function if they include a stylus, helping users avoid contact, and thus risk, as they interact with digital devices.
Variable personalisation is possible on certain pens, with people's names engraved or printed on the product, to promote ownership and deter sharing!
Antibacterial desk accessories
The use of antimicrobial coating goes beyond pens, and now includes other branded promotional products. The range of UK made items includes various styles of ceramic mugs, takeaway mugs, thermal bottles, mouse mats, coasters and counter mats. They look like the promotional products you know and love, useful, colourful (even pantone matched if you like) and with branding options that will make them feel unique to you.
Whilst we all eagerly await the return of events where corporate gifts are the perfect ice-breaker and legacy to conversations, don't forget the 'feel good factor' that they can create with your team. Now more than ever, they'll be great accessories for virtual meetings and an important way to keep your people close to the brand that they're working hard for, even when that's at a distance. Our support can even extend to mailing these items for you.
You may like to check out our blog post on antibacterial print too!
Let's keep it clean! Let us know if you'd like a few branded ideas, visuals and samples of any antibacterial promo products.